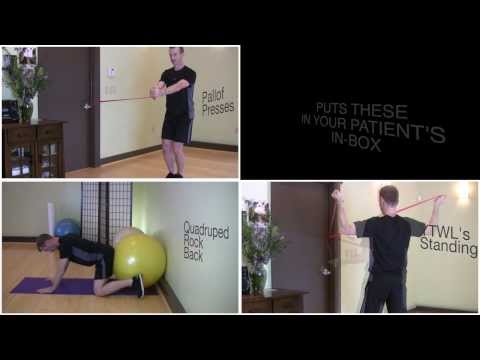 Here are 3 new exercises that subscribers have requested at MyRehab. Full versions of the exercises are available for subscribers to send to their patients to help with patient education. As always, this process is easy to perform and allows you to send these videos directly to your patient's email in-box. If you're not yet a subscriber, you can trial MyRehab for 30 days for $1 by signing up here. Monthly membership after that is only $19.99 without contract or obligation. More info is on the video to the right of the page here
YTWL-Standing:  Based on Blackburn's rotator cuff research, this standing version requires fewer props at home using a piece Theraband. The prone version is already in the library at MyRehab.
Quadruped Rock Back-Gym Ball:  This is a nice correction for loss of lumbar lordosis at the bottom of squatting exercises. Sometimes referred to as "butt winking", this rounding of the lumbar spine under load produces the injury vector for lumbar disc herniation.
Pallof Presses:  Named after John Pallof, PT, these core stabilization exercises are a great intervention for rotary instability. Standing versions on 2 legs are shown as well as single leg versions. I've had a lot of success using the single leg version in runners prone to overpronation and patellofemoral syndrome.