Happy Thanksgiving all!  Here in the US, today is a holiday set aside to gather with family and reflect on the things that we have to be thankful for.  I feel truly thankful this year for not only my own family, but also for the professional family that I've been fortunate enough to be adopted into this past year.  I want to thank you folks for playing together on Facebook and in the blogosphere and especially for spending time together at continuing education weekends.  This past few weeks have been quite active in that regard with back-to-back long weekends on a cranial download of Fasical Manipulation and Dynamic Neuromuscular Stabilization (DNS) coursework.
For those who haven't yet been exposed to the DNS material, it is the latest in the evolution of the Prague School of Physical Medicine and is the brainchild of Professor Pavel Kolar.  Dr. Kolar is the current head of the school which is housed at the Motol University Hospital in Prague, Czech Republic.  Past heads of the school have included Vaclav Vojta, Karel Lewitt, and Vlad Janda.  Kolar's work has been greatly influenced by Vojta's work with children with cerebral palsy (CP) which started back in the 1950's.  Vojta's observed that the innate developmental movement patterns of infants are not only predictable in their ontogeny, but that those predictable patterns are disturbed at a very early age in CP kids.  To an astute observer, those flawed patterns offer an opportunity to diagnose CP at an earlier age, and then to intervene for those kids' benefit.  Vojta found that grooving more normal motor programs in those children helped them achieve higher levels of function.
Pavel Kolar's work was also informed by his athletic experience as an Olympic gymnast for the Czech Republic.  Kolar wondered whether children with CP might not be the only benefactors of Vojta's ideas.  He began to note that the commonly presenting pain syndromes in adults were coupled to poor movement patterns that mirrored the faulty movement patterns observed in CP kids.  When he began to apply the same exercise strategies in these adults, their pain syndromes improved.  Given his athletic background, Kolar started applying the DNS principles with athletes for performance improvement and once again found success.  Today, high performance athletes are beating a path to Prague and to those practitioners worldwide who are well versed in these techniques.
This past weekend, one of the larger courses in the US was held at Athlete's Performance International in Phoenix, AZ and included classes in the A, B, C and Advanced levels of training.  The roughly 80 total participants were treated to grand rounds with professional athletes and world record holders.  The attendees included physical therapists, chiropractors, MDs, athletic trainers, personal trainers and bodyworkers.  One of the most satisfying aspects of this DNS community is the 'cross-pollination' between the healthcare disciplines that occurs at these events.  I was privileged to be able to interview a few of the instructors and attendees before I left Phoenix and those interviews will be posted in this and the next entry here.  To learn more about the DNS program, go to www.RehabPS.com and register for their limited seating courses to be on the cutting edge of the new Rehab Renaissance.
Alena Kobesova, MD is a familiar face to US DNS attendees as she works as a lead instructor for the Prague School, but also functions eloquently as Pavel Kolar's translator.  Here, Dr. Kobesova speaks about the DNS perspective on the diaphragm's role in respiration and stabilization.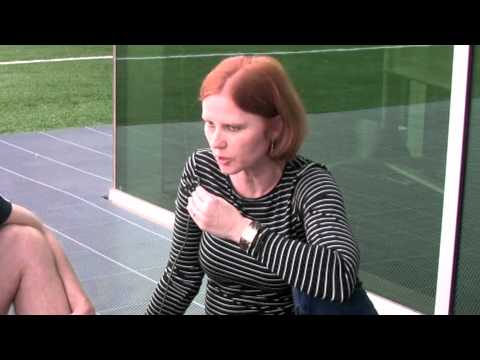 Dr. Craig Liebenson has played a pivotal role in the last 20 years in gaining a US audience for the work of the Prague School.  He has hosted Vladimir Janda and Dr. Kolar many times, and was the main organizer for this event in Phoenix at API.  Here he discusses open chain vs. closed chain exercises in the DNS program.
Clare Frank, DPT is one of the primary DNS instructors in the US programs and was co-author of Assessment and Treatment of Muscle Imbalances: the Janda Approach.  Here she discusses the misconceptions of many about the importance of reflex points and reflex locomotion in the DNS system and also explains the influence of Janda's work on the DNS point of view.