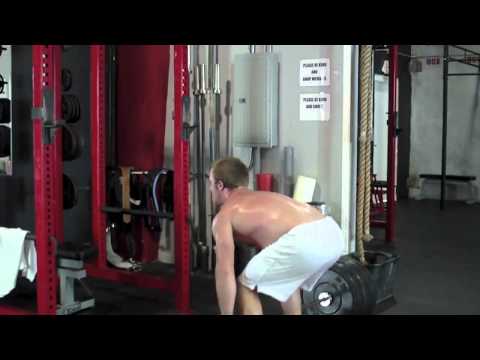 In the training and rehab communities, a slight rift exists on whether rehab exercise is even necessary.  Some strength training experts suggest that getting people into free weight environs and adding enough weight to their lifting challenge to stimulate the body to adapt is sufficient.  While this may be enough for some individuals with few major unbalanced movement patterns (read 2's on the FMS), others with pain and/or significant movement errors are at risk of injury in this scenario.  I put together this video as an example to help get the point across, and hope it helps drive the discussion a bit.
Other recent excellent posts on this topic include Eric Cressey's blog (Correcting Bad Posture: Are Deadlifts Enough?) and Dr. Craig Liebenson's blog (Strength Training vs. Functional Training).  Also check out one of Gray Cook's recent posts (Gray Cook Radio-Episode 15) on how to interpret 1's, 2's and 3's in your FMS screen.  Gray says 3's are perfection, and if you trained that person for a year, you wouldn't be able to improve the pattern.  2's are imperfect movements that can be improved on, but are acceptable and don't represent risk of injury.  1's are dysfunctional and warrant your immediate attention.  Many of us in the rehab and strength communities that use the FMS, get myopic and start obsessing about getting people to 3 status, when we really ought to be focusing on bringing 1's up to 2 status.
A few years ago, I started compiling videos of the functional corrective exercises I learned in weekend continuing ed seminars with Stuart McGill, Craig Liebenson, FMS and others so that I could use those videos to help support at home care for my patients.  Last year, I started re-shooting those videos and adding material from folks like Eric Cressey, Brett Jones, Pavel Tsatsouline and others.  All of these vids were shot not as if they were speaking to an educated health care professional, but were shot in language suitable for patients and clients.  I have found that this approach of using video to support my patient's exercise prescription is WAY better.  It not only increases patient compliance, but also decreases the time needed to teach patients in the clinic.
I'm now offering that video library to other health care professionals as MyRehabExercise.com.  It's not just for clinicians like DC's, PT's and MD's but will work well in the personal training/coaching environment and for bodyworkers.  As time goes on, this blog will serve as a meeting place for users, as we discuss better methods of improving the mobility of those "crunchy bits" as Kelly Starrett, DPT (MobilityWod.com) refers to them, and also look at specific clinical conditions and talk about how to approach them from a functional approach.  A word of warning though…this is not old school isolation exercise for the most part.  The material here is from the new Rehab Renaissance and is for the other nerds out there who love this stuff but need help teaching patients and clients how to do some of this high order work.  If you're looking to distinguish yourself in your community as an expert in functional rehab exercise, this stuff will help.
MyRehabExercise.com is due to be released any day now…as soon as my beta testers give me the thumbs up the site is dialed in.  We're offering a Charter Membership to those who are stoked and sign up on the wait list above.  Charter Members will be guaranteed membership to the site for only $9.99 per month for the life of the site! You nerds will also help shape the face of this project as time goes on through your feedback.  Once the site is released, you can trial it for only $1 for 30 days with no obligation, after that, if you don't like just cancel your account.  If you find it helps your patient/client care as much as it has mine, then you'll be charged $9.99 per month.  Look forward to working with you all!!